Ash drummer Rick McMurray: From Indie to independence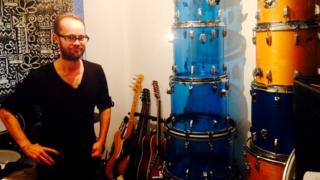 Rick McMurray is best known for indie rock, but it's another kind of indy that has re-energised him - Scottish independence.
As drummer in the Downpatrick band Ash he did his bit to help persuade young people in Northern Ireland to back the Good Friday Agreement.
Now he's licking his wounds after supporting the losing Yes campaign in the Scottish referendum, but refusing to rule out a future career in politics.
McMurray has lived in Scotland for 10 years, but it was the birth of his daughter that really focussed his mind back on politics.
He's preparing to fly to New York, home to the other two members of Ash, Tim Wheeler and Mark Hamilton, to record more songs.
But at the same time he's considering how best to push forward his political agenda.
"One thing's for sure, it's energised me [the referendum campaign]," he said.
"I want to keep that energy going and use it in a positive way to try and create change for the issues that I care about and that's not just about Scottish independence now, because you've got to accept democracy, but you also have got to look at the issues that were thrown up there - the NHS and just in general the inequality of society at the moment.
"The sixth richest country in the world (UK) with one of the biggest divides. It's kind of frightening and something has to be done about that."
New political party
So would he consider entering politics and standing for election?
"It's crossed my mind. I don't know where I would position myself. I think at the moment I'm going to concentrate on the grassroots thing and we'll see what energy comes from the Yes side," he said.
"There's talk of setting up a new political party, so we'll see where that goes. (I'm) considering joining the Green Party, we'll see where that goes, I just want to get more involved."
McMurray got his introduction to political activism on 19 May 1998, the night Ash joined U2 to drum up support for another yes vote, this time in the Good Friday Agreement referendum.
The abiding image is the moment U2's frontman Bono held aloft the hands of Ulster Unionist leader David Trimble and SDLP leader John Hume in a symbolic show of unity.
But today McMurrray does not see much that links the two referendums.
"I find it hard to draw parallels between the Good Friday Agreement and the (Scottish) referendum," he said.
"Obviously it was a very different situation. It's just the level of violence that was happening in Northern Ireland, it doesn't, have a correlation here thankfully.
"I know the word nationalism is thrown about a lot in Scotland these days, but I find it very different.
"It's like the terms are the same, but the meaning behind those terms are very different as well - civic nationalism is about democracy not identity. I've had enough of identity politics - it's about issues."
"Obviously I've sided with the Yes campaign for Scottish independence," he said.
"Now whatever happens in Northern Ireland that's up for the people of Northern Ireland to decide. I think I've kind of lost my right to have an opinion, because I don't live there anymore."