Royal Victoria Hospital emergency department 'under pressure'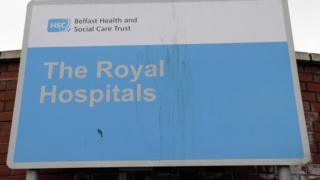 Northern Ireland's biggest accident and emergency department was under pressure on Monday night, the BBC understands.
At teatime on Monday, the BBC understood 112 people were waiting in the emergency department at the Royal Victoria Hospital, Belfast.
Five were waiting for almost 20 hours to be admitted. A spokeswoman for the Belfast trust said the department was "busier than normal".
However, a major incident was not declared at the hospital.
AT 21:40 BST on Monday, the trust said the number waiting in the emergency department had dropped to 90. Fifteen were still waiting to be admitted.
The trust said it was an "exceptionally busy Monday".
The BBC understands that a busy Monday has become a familiar pattern, caused by a backlog from the weekend and all the new week's GP referrals.
Current Department of Health targets say no patient should wait longer than 12 hours.