Mitchel McLaughlin stands in for Assembly speaker William Hay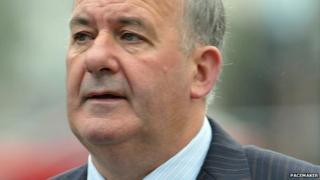 Sinn Féin's Mitchel McLaughlin is to take on the role of assembly speaker while the DUP's William Hay recovers from health problems.
Mr McLaughlin told assembly members that Mr Hay had authorised him to "exercise all his procedural functions".
He said he was withdrawing from his roles on committees, and would not be not speaking in debates or voting.
Mr McLaughlin took on the role last week after Mr Hay became ill.
"Members will be glad to know that he is in good spirits but he is currently following medical advice and recuperating at home pending further treatment for a heart problem in the coming weeks," he told assembly members.
Mr Hay was elected speaker in May 2007 following the restoration of devolution to Northern Ireland.
The Donegal-born politician is due to leave the post after becoming a member of the House of Lords in August, deciding to sit on the crossbenches.