Arson attacks on cars 'needless act', say police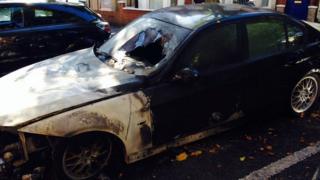 Arson attacks on six cars in south Belfast at the weekend have been described by the police as a "needless act and a waste of resources".
Two vehicles were set alight and badly damaged at Cadogan Street on Saturday.
Vehicles were attacked at Collingwood Avenue, Damascus Street and Cadogan Street on Sunday. A car was also burned out in Delhi Street on Monday.
Det Insp Peter Mullan said the investigation was at an early stage but hate crime had been ruled out.
"The victims were from all areas of the community," he said.
He said there was "nothing to suggest" one person was responsible for the attacks, but hit out at those responsible.
"It is totally necessary the police and the Fire Service attend these things," he said.
"The risk to nearby property, people in those properties and nearby cars is very serious. One car could set another car on fire and possibly houses as well.
"But it is a needless act and a waste of resources."
The Collingwood Avenue attack happened shortly after midnight on Sunday morning, the one on Damascus Street at about 03:50 BST and the second Cadogan Street attack at about 23:30 BST.
Police want anyone with any information to contact them.