Bullets delivered to Alliance Party's Emmet McDonough-Brown and Duncan Morrow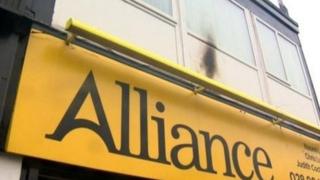 The Alliance Party has said bullets have been delivered to two of its members in south Belfast.
The party said councillor Emmet McDonough-Brown and representative Duncan Morrow were each "hand-delivered" a bullet on Friday night.
Alliance offices and members have been targeted a number of times since a vote on the flying of the union flag at Belfast City Hall in December 2012.
The party said the latest threats would not intimidate them.
"The irony is that this happened during Culture Night, a night when Belfast came together as a city, shared space and gave us a glimpse of what is possible when we work together," Mr McDonough-Brown said.
"These people are afraid of what Alliance stands for. Their attempt at intimidation will not succeed."
Mr Morrow said those responsible "offer Belfast nothing and only wish to see a return to the dark days of the past."
In a statement, the police said: "We do not discuss the security of any individual.
"However, if we receive information that a person's life may be at risk, we will inform them accordingly. We never ignore anything which may put an individual at risk."