Scottish independence: NI parties clash over extra Stormont powers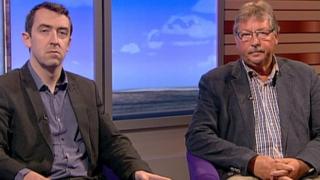 Nationalist and unionist politicians have clashed about whether extra powers should be given to Stormont, in the wake of the Scottish referendum result.
The prime minister has promised devolution changes that will be fair to the people of Scotland, England, Wales and Northern Ireland.
Sinn Féin MLA Daithí McKay said these changes had to include tax powers.
But, the DUP's Sammy Wilson said it would be wrong to devolve more powers.
"Even with the powers we do have, and we have fiscal powers at present, we have also powers over welfare payments, etc, we have not been able to reach decisions," Mr Wilson told the BBC's Inside Politics.
"In fact, we are now in a situation where our budget for this year could be in great jeopardy because of the repayments we're going to have to make to Westminster, due to Sinn Féin's intransigence."
Speaking on the same programme, Mr McKay said more fiscal powers should be devolved to Stormont.
"I think it's important to put this into context and the reason we are facing a lot of difficulty at the moment is because we don't have a lot of these powers," he said.
"The Tories did cut our budget for the previous four years, so that is why we have the pressures we have on the health service and other public services."
On Friday, Scotland voted to stay in the United Kingdom after voters decisively rejected independence.
With the results in from all 32 council areas, the "No" side won with 2,001,926 votes over 1,617,989 for "Yes".
Honoured in full
Ahead of referendum, the Westminster parties had promised to hand over more powers to the Scottish Parliament in the event of a 'No' vote.
Following the result, Prime Minister David Cameron said the commitments on extra powers would be honoured "in full".
The prime minister has promised draft legislation by the end of January on handing more powers over tax, spending and welfare to Scotland, which would come into effect after the May 2015 general election.
He has also acknowledged that the people of England, Wales and Northern Ireland must have a bigger say over their affairs.
He said that just as Scotland would be able to vote separately in the Scottish Parliament on their issues of tax, spending and welfare, the same should apply to the other countries within the UK.