George Galloway: Willie Frazer pledges not to repeat insults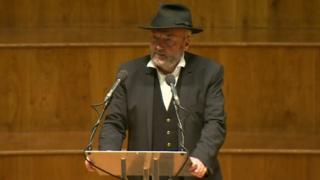 A loyalist victims campaigner has made a High Court pledge not to repeat any allegedly defamatory comments about George Galloway on social media.
Bradford West MP Mr Galloway has taken defamation proceedings against the high-profile campaigner, Willie Frazer.
The case began after Mr Frazer made a speech at a loyalist demonstration in Belfast, in protest against an event Mr Galloway was taking part in.
The Respect MP complained Mr Frazer's remarks constituted a "hate speech".
Protests outside last month's public speaking event, billed as Saturday Night with George Galloway, centred on controversy over the MP's earlier reference to Bradford being an Israeli-free area.
'Gone too far'
At the High Court in Belfast on Friday, the victims campaigner said he stood over most of the protest speech he made outside Belfast's Ulster Hall on 23 August.
However, he accepted he may have gone too far in calling Mr Galloway an abusive term.
Mr Frazer told the judge: "There's probably a more preferable way of displaying my feelings towards this man."
He confirmed his undertaking not to repeat his comments online, pending the outcome of the defamation proceedings.
In his libel action, Mr Galloway claimed Mr Frazer made false and sectarian remarks about him during the protest, which significantly heightened tensions at the venue.
The victims campaigner was said to be at the scene, operating a camera to post a video on YouTube, while the MP taking part in the event inside the hall.
Mr Frazer told the judge: "There's probably a more preferable way of displaying my feelings towards this man."
The campaigner also signalled his desire to have the MP called to court to give evidence about his views.
In legal papers related to the case, the MP listed a series of allegations made about him, categorically denying them all.
The disputed speech was allegedly broadcast by Mr Frazer on YouTube, which is owned by Google, and was said to have been viewed more than 17,000 times.
Mr Galloway's lawyers had gone to court to seek an injunction until the wider action is determined.
But after the online posting was removed, an alternative assurance was given not to re-post the comments on any social media.
'Totally vindicated'
Appearing without legal representation, Mr Frazer told the court: "I stand over what I said, but if the court thinks I should not be doing that until this is decided I will give that undertaking."
Mr Frazer questioned the consistency of the Respect MP's views on various issues.
He told the judge: "It's quite obvious at some stage we need this man to be in front of yourself."
Following Mr Frazer's pledge, the MP's solicitor said: "We welcome the development in court today, coming as it does on foot of confirmation from YouTube that other offensive material has been removed from the internet.
"Our client's decision to litigate on these sensitive and important matters has been totally vindicated.
"We look forward now to a speedy resolution of all outstanding matters before the court," Mr Galloway's lawyer added.