Report backs Fold Housing plan for former Visteon factory in west Belfast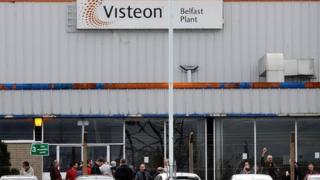 A report for Belfast City Council has backed plans for a former factory site to be redeveloped for housing.
The land was previously used by Visteon, a car component plant, which closed in 2009.
Fold Housing Association bought the Finaghy site last year for a reported £2.4m and has submitted planning for 244 houses.
The report says the application has "reasonable prospects for obtaining planning permission."
'Re-zoned'
While 87% of the site would be for housing, the proposal also includes plans for some business units and a community centre.
The site was recently re-zoned and is no longer tied to providing employment.
The report, carried out by consultants, says it will cost Fold Housing Association an additional £1m to clear the site ahead of housebuilding.
It says given the overall spend, "a proposal without a substantial element of housing would not produce a positive return."
'Social housing'
It notes that there appears to be no public funding available to have redeveloped the Blacks Road site for business use.
West Belfast firm Deltaprint had considered relocating to the site, but instead decided to expand its existing factory at Kennedy Way.
Sinn Féin has endorsed the housing plan, given a high demand for social housing in the area.
But local residents' groups had opposed the idea, believing the land should have been kept for business use.
Visteon once employed 1,000 people.