Fifa's Jim Boyce to return £16,000 watch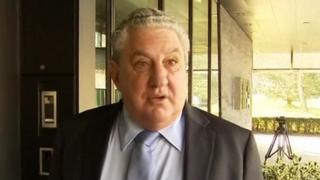 Fifa vice-president Jim Boyce has said he will return a £16,000 watch given to him before the World Cup finals by the Brazilian Football Confederation (CBF).
Mr Boyce, a former Irish FA president from Belfast, said he only discovered the watch in a bag in his garage last week.
The commemorative gifts were handed out by one of the CBF's sponsors to various people at the World Cup.
They included 28 members of Fifa's executive committee.
Several officials did return the watches and informed Fifa's ethics committee, but Mr Boyce did not.
In a statement the ethics committee said those receiving gifts "should have checked they were appropriate and should have either returned or reported it".
"Fifa's code of ethics plainly prohibits such gifts," it added.
Fifa brought in a new code of ethics two years ago as a response to bribery allegations related to the bidding process for the next two World Cups.
It is currently hosting a world summit on ethics in sport in Zurich.