Bernadette Smyth tells court: 'I'm no witch, I'm a Christian'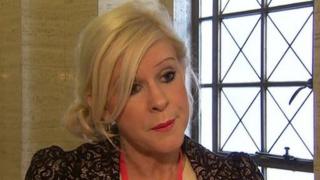 An anti-abortion protester accused of behaving like a witch told a Belfast court: "I'm no witch, I'm a Christian".
Bernadette Smyth, who leads the anti-abortion group Precious Life, was replying to a prosecution lawyer.
Mrs Smyth, of Suffolk Street, Ballymena, County Antrim, denies harassing Marie Stopes clinic director Dawn Purvis.
The lawyer suggested she had laughed at Ms Purvis in a "cackling, jeering, mocking way, in a witch's manner."
Ms Smyth replied: "I can't agree with this court that I'm a witch. I'm a Christian."
The case concerns two incidents involving the accused that happened outside the Marie Stopes Clinic, Great Victoria Street, Belfast, in January and February.
Ms Purvis runs the clinic and Ms Smyth was among anti-abortion protesters outside. Ms Purvis claimed that Ms Smyth harassed her.
The Marie Stopes clinic opened in Belfast in October 2012, amid protests from anti-abortion groups.
It provides medical termination of pregnancy up to nine weeks' gestation, subject to legal criteria being met.
A woman can only have an abortion in Northern Ireland if it can be proven her life is at risk or if there is a risk of permanent and serious damage to her mental or physical health.
The case continues