Army exercise biggest in Northern Ireland since before The Troubles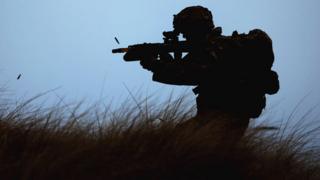 The biggest military training exercise to be held in Northern Ireland since before the Troubles is being held in the north west next week.
About 500 soldiers are taking part, in areas including Binevenagh mountain and Magilligan in County Londonderry.
Lieutenant Colonel Matt Monroe, who commands the Royal Scots Borderers said it was a "really important" exercise.
"This is about preparing them for potential operational service overseas," he said.
"It's definitely a really momentous occasion in the sense that it's a really important and potentially hugely beneficial exercise that we're looking forward to very much.
"From a security perspective, it would have been really difficult to have run this exercise during Operation Banner [the British army's operation in Northern Ireland from August 1969 to July 2007].
"It's right to do it now, because we face an uncertain future, there's a tremendous amount going on in the world so it's important that our soldiers are prepared appropriately and well."
'Military skills competition'
Lt Col Monroe said while 500 soldiers were taking part in what he described as a military skills competition, not all of them would be involved at the same time.
He said local people should not be alarmed if they see large numbers of soldiers in their area.
"It's possible that they will see our exercising troops," he said.
"They shouldn't be concerned and our advice to the civilian population who could see these exercising soldiers is to simply go about their normal everyday routine lives."
He said the regiment had been received well since coming to Northern Ireland.
"In the eight or nine weeks that we've been in Northern Ireland we've been tremendously well looked after, the local community have been hugely enthusiastic, very kind to us and we're really optimistic about the rest of the time we will spend in Northern Ireland," he said.
"We're here for the foreseeable future."