'It's a girl': Belfast zoo names baby giraffe Ballymena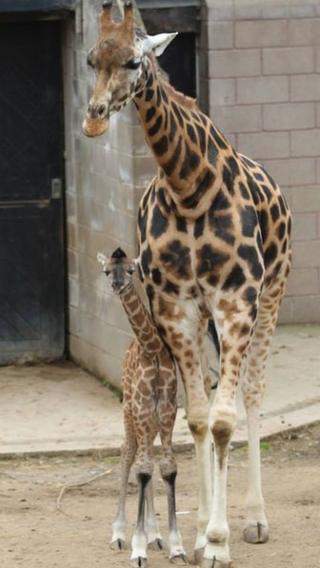 Belfast Zoo has revealed that a giraffe born in front of surprised visitors to the animal enclosure is a girl.
The calf has been named Ballymena and she will be called Mena for short.
Her mum Neja gave birth to the Rothschild's giraffe on 1 September.
Zookeepers gave the pair time to bond before finding an opportunity to confirm the sex.
If the infant had been found to have been a boy, staff had decided on the name Ballyrory.
Endangered
Zoo curator Alyn Cairns said it was a tradition at Belfast Zoo that any new giraffe calves born are named after towns and villages in Northern Ireland that begin with Bally.
"The keepers, who care for the giraffes, have been thinking of names throughout Neja's pregnancy and have selected Ballymena," he said.
Keepers first discovered Neja, and father Finn, were going to have a baby in 2013.
Belfast Zoo first became home to giraffes in 1988 and since then 33 calves have been born at the Cave Hill site.
Rothschild's giraffes are one of the most endangered of the nine subspecies of giraffe.
The Belfast group is part of a European breeding programme.