Robert Morrow traces relatives who died in Titanic and World War One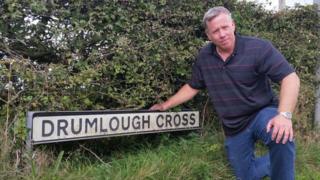 A Californian man who travelled to Northern Ireland to trace a relative killed in the Titanic disaster has found out more about another family member who died in World War One.
Robert Morrow, from just outside San Diego, was tracing his great-great uncle Thomas Rowan Morrow, who died on the Titanic on his way to America in 1912.
While visiting his family's ancestral home in Drumlough, near Rathfriland, in County Down, Robert also heard about his great-grandfather George Morrow, whose name is to be added to Rathfriland's war memorial on Saturday.
He died of pneumonia at the Royal Garrison Artillery at Fort Matilda in Scotland in December 1914.
"I can't imagine how many people lost their loved ones in World War One. Our story's really not unique, but I lost my great-grandfather," Robert Morrow said.
"Consequently my grandfather became an orphan and he ended up coming to the states at a very young age and that affected him.
"He was just a great guy and I just can't imagine what George must have been like and what might have been.
"We're all real grateful that the guys are taking the time here to remember George and he's in good company."
Local researcher Gary Gardiner discovered the connection to George.
"It was basically through some research on Tommy that I discovered George," Mr Gardiner said.
"I discovered that he was based in Greenock in Scotland and he died of pneumonia through his service with the Royal Garrison Artillery."
Charlie Marno of the local branch of the British Legion said it was an unusual discovery
"There's been nothing added to this war memorial in the last 50 years and it's certainly been put out there by the legion itself for anyone out there who needed a name added to it," he said.
"I've even been in touch with our Limerick branch down south and nobody knows of anything like this."
'The man Morrow'
David Scott of Drumlough and District Historical Society said the Morrow name was well-known in the area.
"We always knew of the story of 'the man Morrow', as he was talked about, the man who perished on the Titanic," he said.
"It wasn't until probably the 2000s we started to poke around a bit more and look around to see who this Thomas Rowan Morrow was.
"The local Orange lodge found that Thomas Morrow was a past master of the lodge and on finding out that information they then decided to paint and dedicate a bannerette to his memory on the 100th anniversary of the sinking of the Titanic, which was very poignant."
Seeing the place where his ancestor hailed from proved emotional for Robert Morrow.
"Something about being here and feeling the wind and coolness in the air and the smell of the fields... I'm going to get a little emotional, I just wonder what it must have been like for him [his great-grandfather George]," he said.
"What a beautiful place, I'm proud to be here and I'm going to share this with the rest of my family.
"We're all real grateful for the guys helping us rediscover our Irish heritage and we're very proud."