'Significant' rise in health and social care concerns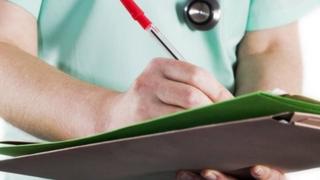 There has been a 63% increase in the number of people looking for support to complain about health and social care services, according to the Patient and Client Council.
In the past year 1,935 people used its complaints support service.
People raised concerns about treatment, care and waiting times.
The annual complaints report found the largest number of complaints were in relation to communication and staff attitude.
The Patient and Client Council saw an increase of 10% in formal complaints supported by their services.
In July 2014, the annual report by the Northern Ireland ombudsman, Dr Tom Frawley, said the complaints about health and social care were "increasingly profound".
Speaking on BBC Radio Ulster's Good Morning Ulster programme, head of operations at the Patient and Client Council, Louise Skelly, said it was "not uncommon" for staff to seem as though they did not care about an older person who did not have long to live.
"End of life care is a recurrent theme and how death is handled," she said.
'Staff attitude'
Ms Skelly also said communication and staff attitude was a major component in the complaints they handled and the issue "doesn't cost money to fix".
"We feel that there is a lot of lessons to be learnt and the system is trying to address that, but not fast enough," she said.
The head of operations added it was "not good enough" to blame the issues on pressures the service is facing.
'Serious implications'
"This can have serious implications for people's health. It doesn't take a lot of money to take time to listen, to take time to explain what is going on to people," she said.
The Patient and Client Council said people had received apologies and assurances from the health service over issues.
Ms Skelly said the services do learn and there is a "richness for learning".
The Patient and Client Council is calling for "health and social care services to make it easier for people to complain and trusts to demonstrate the learning and changes that have been made as a result of complaints".