Shankill residents angry at Housing Executive's lack of plans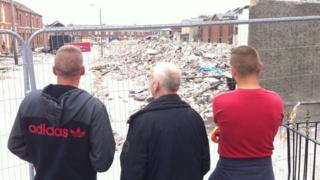 A community group on the Shankill in west Belfast is angry that there are no plans to replace over 100 houses that are currently being demolished.
Lawnbrook Urban Regeneration Area was vested in 2009.
One hundred and five houses were initially knocked down and replaced by 54 new homes. Another 141 houses are under demolition at Glenwood Street, Brookmount Street and Lawnbrook Avenue.
The Housing Executive said there were "no development plans as yet".
The chairperson of the Shankill residents group, Isobel Beattie, said: "We've been fighting for years to get these houses knocked down.
"We're waiting to get houses built on the Shankill because we need housing. There's no plan at all for this area, for three years at least.
"Now, we're going to be left with derelict ground here with nothing on it. People are very angry that there's nothing being put on the Shankill."
Ms Beattie said a lot of the people affected were elderly residents.
"It was a very upsetting time for them to have to get moved out and then they got nothing back," she said.
"They had to go somewhere else to get a house.
"We would need something urgently done in this area because what's going to happen is, when all these houses come down, it will probably end up a dumping ground."