Francis McPeake abuse trial: Woman claims abuse ruined her life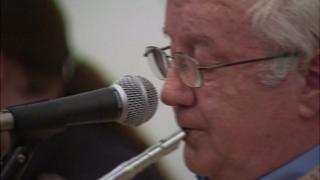 A woman who claims she was abused by folk musician Francis McPeake when she was 15 has told his trial he robbed her of her childhood and ruined her life.
The 72-year-old denies 12 counts of sex offences against her.
The woman said she began a relationship with Mr McPeake when she attended his traditional music classes in 2009.
She said they met secretly to have sex, until her family became aware that the relationship may have been more than a teacher-pupil friendship.
The young woman, who cannot be named to protect her identity, said her family then confronted Mr McPeake and ordered them not see each other again.
However, she said at the time she believed she loved him and although her parents had banned her from his classes at the McPeake School of Music in Belfast, she continued to meet him in secret.
She claimed their relationship continued until she ended it in 2010.
'Lied'
Mr McPeake was in his late 60s at the time the abuse was alleged to have taken place.
Giving evidence on the opening day of the trial at Belfast Crown Court, the woman said: "I thought it was normal what we were doing, being with him. I thought he was my boyfriend."
She said that as a result of their relationship, she neglected her friends and lied to her family.
The woman added: "When I started seeing Francie, looking back on it now I stopped living. I didn't really have a childhood then."
The court heard she reported the abuse to police in December 2012, shortly after meeting Mr McPeake by chance in Belfast city centre.
The woman said that at this stage she felt she had grown up, and went she met her former music teacher, he "acted as if everything was normal".
'Suffer'
She said that when he asked her about school, she told him she had failed her exams and blamed him for her poor results.
She told him he had ruined her life and that she wanted to make him suffer as much as he had made her suffer.
The woman said: "I told him I was going to hurt him because he had hurt me and my family."
The court heard the musician voluntarily attended a police interview in the spring of 2013.
Mr McPeake's solicitor read out a statement on behalf of his client, that said: "I have never done anything with this child."
The statement also branded her allegations as "false, malicious and without foundation" and accused her of trying to destroy his life.
Under cross-examination, the woman admitted she knew of the fame surrounding the McPeake family and that she herself wanted to be a successful traditional Irish musician.
'Personal problems'
A defence lawyer put it to her that she "latched on to" his client and "tried to get his attention" when she was around him and that she became "fixated" on him.
The lawyer also suggested to the woman that she "sought out" Mr McPeake when she was having personal problems, and that in return he provided her with advice, help and guidance.
"He did everything to help you," the defence lawyer told the woman.
He added that the defendant "jumped when you clicked your fingers, because he felt you would do something to hurt yourself".
The lawyer told the jury it was Mr McPeake's case that no abuse occurred.