Martin McGuinness backs smaller Northern Ireland Assembly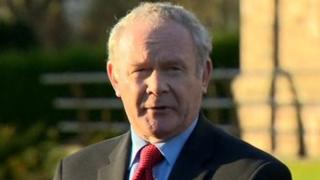 Martin McGuinness has said he supports a cut in the size of the assembly to show politicians are prepared to accept part of the pain caused by budget cuts.
He said he expected wide-ranging negotiations involving the British and Irish governments would take place soon.
He said they should begin after the UK government has dealt with the outcome of Thursday's Scottish referendum.
Budgetary matters would be central to the talks, Mr McGuinness said.
"I'm very much in favour of a reduction in the number of assembly members from six per constituency to five," the deputy first minister said.
"I'm very much in favour of a reduction in the number of government departments.
"I say that because I think if pain has been inflicted on our people as a result of the budgetary measures taken by the British government in London - a government made up of multi-millionaires - then I think that the political process politicians have to accept part of the pain of them."
Previously Sinn Fein has said it was not convinced by arguments for cutting the number of MLAs because it might marginalise smaller parties and independents.
Last week, First Minister Peter Robinson said that Stormont was not fit for purpose and called for negotiations on reforming the system in order to help the politicians overcome logjams on issues like welfare reform.
Sinn Féin is refusing to support welfare reforms.
The government has said that unless legislation is passed to allow the reforms, it will impose financial penalties, reducing the amount of money available for public spending in Northern Ireland.
That is already having an impact on departmental budgets at Stormont with ministers warning it could have an impact on a wide range of services including health.
The issue is at the centre of a deep political row between the DUP and Sinn Féin.