National Geographic puts Gaelic games in its top ten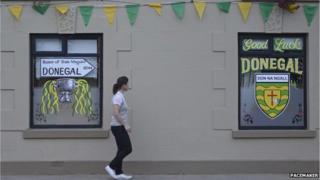 A respected globally-published magazine has confirmed what every hurling and Gaelic football fan knows - All-Ireland finals can be very special.
Attending an All-Ireland final in Dublin's Croke Park has headed National Geographic's list of the 10 most interesting things to do on the island of Ireland in autumn.
According to National Geographic: "Gaelic football and hurling are some of the top spectator sports in Ireland and Northern Ireland, culminating in the All-Ireland Senior Championship finals played in Dublin's Croke Park in September."
The magazine describes the finals as "the experience of a lifetime" but warns that early planning is advisable because the stadium's 82,300 seats are quickly booked out.
The author of the article, Kathleen Mangan said: "When I included the GAA All-Ireland finals in hurling and football in the National Geographic list of the Top 10 things to do in the fall in Ireland and Northern Ireland, I had no idea that the final teams would be so closely matched this year.
"The championship finals are always exciting, but the epic hurling final on September 7 resulting in a draw for Kilkenny and Tipperary has been called the greatest game of hurling ever played."
On Sunday 21 September, a thrilling Croke Park encounter is expected when Donegal - conquerors of red-hot favourites, Dublin - take on the mighty Kerry in the All-Ireland Senior Football final.
John Murphy, 83, has followed Donegal through good and bad times and plans to get the bus down to watch his 62nd All-Ireland final in the national stadium in Dublin on Sunday.
He agrees heartily about the special atmosphere that is an All-Ireland final.
"When I stand up in Croke Park and hear the anthem, the hair rises on the back of my head," he said.
"It is a privilege to be there. The All-Ireland final is one of the greatest days in any Irish sportsman's life. I get very emotional."
'Only Donegal'
Donegal man Edmond Brennan, a fervent supporter of his county team, professes to be a happy fan.
Edmond, who is aged 61, has attended every Ulster championship football match that his county had taken part in since 1971.
Such is his passion for the county that he vowed to watch only championship matches involving Donegal.
"I followed the county through thick and thin. I was travelling to matches when Donegal was well down the list," he said.
He admits to witnessing a depressing number of defeats but said he was delighted with the form of the present team.
And well he might be. Edmond's loyalty was rewarded last month when Donegal hammered a superb Dublin team that had steamrollered their way to the semi-finals.
"My wife and I live in Donegal town but we are members of the Naomh Ultan GAA club in Dunkineely and through our membership, we are able to get tickets for the football final," he said.
"I think they are going to do it on Sunday. I'm tipping Donegal to win by three points."