Men arrested: Bangor town centre shops attacked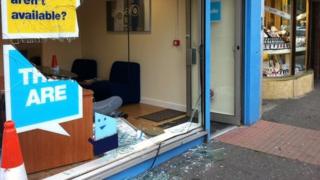 A number of shops have been attacked in County Down.
Windows were smashed at properties in Main Street, Bangor, in the early hours of Tuesday morning.
Damage was also caused to vehicles in the area.
Two men have been arrested. The pair, aged 20 and 22, are currently assisting police with their enquiries.
Among the stores damaged were The Mortgage Shop, Asda, Spectator Newspapers and Boots.
Insp Gary Busch appealed for information.