Top police job: Sinn Féin move 'motivated by Adams arrest'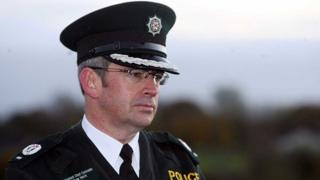 Promotion prospects are limited for any police officer who signs an arrest warrant for a Sinn Féin member, a Policing Board member has claimed.
DUP MLA David McIlveen was on the interview panel that recommended Drew Harris as PSNI deputy chief constable.
Sinn Féin's Caitríona Ruane withdrew from the panel claiming the process may have been compromised.
Mr McIlveen said the move was a reaction to the arrest of Gerry Adams, but Sinn Féin has denied the claim.
'Political policing'
On Monday, Ms Ruane called for a new recruitment process for the position of deputy chief constable, "in light of the need for absolute transparency in all public appointments, and to protect the Policing Board's integrity".
She later said her concerns did not "reflect in any way" on either of the two senior officers who were candidates for the job.
Other panel members have rejected her claim that the process had been compromised and accused Sinn Féin of political policing - saying the arrest of Gerry Adams earlier this year was the real reason the party withdrew from the process.
Drew Harris had sanctioned the arrest of the Sinn Féin president earlier this year.
Mr Adams was detained and questioned for four days about the IRA murder of Belfast mother-of-ten Jean McConville in 1972.
He was later released without charge.
Only two candidates - Mr Harris and his fellow assistant chief constable Will Kerr - applied for the deputy chief constable post.
The job went to Mr Harris, who is the son of an IRA murder victim.
His father was a senior police officer in the Royal Ulster Constabulary (RUC) when he was killed by an under car bomb in 1989.
'Bigoted'
Sinn Féin's opponents claimed the party simply did not like Mr Harris and did not want to have any part in appointing him.
Mr McIlveen said on Tuesday: "I think there has a message been sent out by Sinn Féin today, that if you are a police officer, and you sign an arrest warrant of any member within Sinn Féin, as the deputy chief constable Drew Harris did, then your prospects of promotion, as far as Sinn Féin are concerned, are considerably limited.
"I think this is belligerent, I think it is bigoted, and I think is sometime that, ultimately, further questions are going to have to be asked over the fitness of Sinn Féin to even be part of the Policing Board," the DUP MLA added.
'Complete nonsense'
However, Sinn Féin's Gerry Kelly dismissed claims that his party was motivated by the arrest of their president.
"It's complete nonsense, it's all conjecture," Mr Kelly said.
"Let me make it abundantly clear again, this was not to do with the applicants. They are long-standing officers, either one of them around long enough to do this job, that's not the issue," he said.
"If the process is wrong and particularly if the belief it that it is compromised, then there is a duty on that person to raise that and that's what Caitríona Ruane did and I stand by her absolutely over it," Mr Kelly added.
However, he said Sinn Féin would give its support to the new PSNI deputy chief constable
"Anyone who holds that position, and it is Drew Harris who holds that position, will have our support," Mr Kelly said.
'Reprehensible'
Ms Ruane was also criticised by another member of the Policing Board interview panel, SDLP MLA Dolores Kelly.
Ms Kelly described the Sinn Féin member's actions as "irresponsible and reprehensible".
"She made a public statement during a live process; a process I believe was robust and will stand up to scrutiny. The panel involved independent advisors who have been content with the process," the SDLP MLA said.
The deputy chief constable post became vacant when Judith Gillespie stepped down in March.
The chair of the Policing Board, Anne Connolly, said Mr Harris "brings immense experience and knowledge of policing to the job".
She added: "I would also like to take this opportunity to thank the unsuccessful candidate for their interest in the post and also temporary Deputy Chief Constable Finlay for his work over the last number of months."
Following the announcement of Mr Harris' appointment on Tuesday, Justice Minister David Ford said he had sought assurances from the Policing Board chair and chief executive.
"On the basis of the assurances provided by the chair and chief executive, I am content to approve the panel's recommendation," he said.
"I offer my warmest congratulations to Drew on his appointment as deputy chief constable.
"Drew brings a wealth of experience to the role with over 30 years of service as well as an understanding of policing in Northern Ireland and the challenges facing the PSNI."