Job fears at North West Independent Hospital in Ballykelly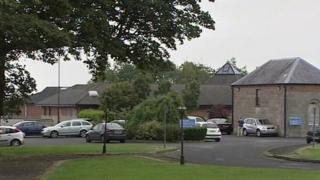 Up to 60 jobs are at risk at a private hospital in County Londonderry.
The North West Independent Hospital in Ballykelly has confirmed it has started redundancy talks, and up to a third of its 180 staff could be affected.
In July, the Health and Social Care Board told health trusts to "pause" referrals to private clinics as part of a move to save money.
The clinic said the threat to jobs was directly linked to the cut in NHS referrals.
'Deep concern'
Mayor of Limavady Alan Robinson said he felt "alarmed".
"There are also some rumours that there may be a reduction in the hours of existing staff," he said.
"It's of deep concern, and it's something that this town simply does not need at the minute."
It follows a warning last month by 3fivetwo, Northern Ireland's largest private medical group that it may have to lay off 50 staff.
All the health trusts refer routine work, such as orthopaedic surgery, to private firms as part of what is called the "waiting list initiative".
It is feared that as a result of the board's move, waiting times could rise for procedures such as hip and knee replacements.