Policeman disciplined for slapping woman in cell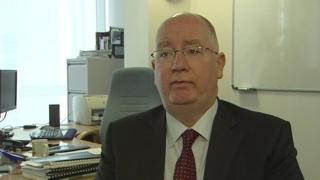 A policeman who slapped a woman in a custody cell has been disciplined after he was found to have used "unnecessary force".
His actions were investigated by the Police Ombudsman for Northern Ireland after the woman complained about her treatment as she was led to a cell.
He admitted slapping the woman but claimed she had been aggressive, adding he believed she was going to hit him.
Investigators found the officer "failed to use other options open to him".
'Abusive'
The Police Ombudsman's office began its investigation after the woman complained she had been "nipped" on her arm and slapped three times as the officer led her to a cell.
The officer denied nipping her and claimed that he needed to use a degree of force to remove the woman from the booking area of the police station.
He told investigators that he slapped the woman once inside the cell, because she being aggressive and abusive.
The officer said he believed she was going to hit him and stated he did not have time to consider other options.
The Police Ombudsman's office cleared the policeman over the level of force he used to take the woman from the booking area, saying it was "justified".
CCTV recording
However, the investigators criticised the officer for slapping the woman when he brought her into the cell, saying he "failed to take a graduated response to the situation before resorting to force".
As part of their investigation, staff from the Police Ombudsman's office viewed CCTV footage from inside the police station, which showed the woman refusing to go into the cell.
No visual footage from inside the cell was available, but investigators listened to the audio from the CCTV camera in the corridor outside, which recorded a "slapping sound" followed by the woman claiming that she had been hit three times.
Police Ombudsman Michael Maguire said he believed the slap "was excessive" and the policeman's action had "inflamed rather than calmed the situation".
"I believe he could have taken control of her arm and restrained her, or he could have held her back with an open hand and used a little force to move her back," Mr Maguire added.
A file on the incident was submitted to the Public Prosecution Service (PPS), in accordance with the ombudsman's procedure for all allegations of assault, but the PPS directed no prosecution.
The Police Ombudsman's office said it then made recommendations to the Police Service of Northern Ireland, which "disciplined the officer concerned".