Ian Paisley: Free Presbyterian Church pays tribute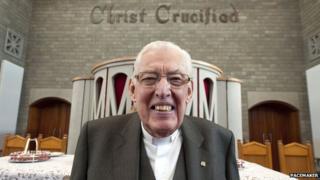 The Free Presbyterian Church has paid tribute to its founding moderator Ian Paisley, who has died aged 88.
Mr Paisley will be buried in County Down on Monday, following a private funeral service at his family home in east Belfast.
The church said it had learned of the former DUP leader and first minister's death "with deep sadness and regret".
Mr Paisley was a founder of the Free Presbyterian Church in 1951 after a split with the Presbyterian Church.
In a statement, the church paid tribute to his "many, many years of faithful Gospel ministry".
"We remember also the huge contribution that Dr Paisley made to the foundation and formation of the Free Presbyterian Church of Ulster; and we salute his gifted leadership in his role as moderator of Presbytery over many decades," it said.
Mr Paisley stepped down from politics in 2008, just weeks after he resigned as moderator of the Free Presbyterian Church.
In 2011, he told the congregation at Martyrs Memorial Free Presbyterian Church in south Belfast that he was stepping down from ministry.