Fire at Christ Foundation Counselling Ministry in south Belfast investigated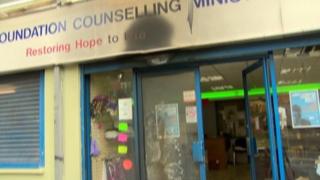 Tyres have been set against a building in south Belfast and set alight.
It happened at the Christ Foundation Counselling Ministry on the Donegall Road, opposite the City Hospital, in the early hours of Sunday morning.
The complex opened at the site in the middle of July. Some scorch damage was caused to the outside of the building.
Pastor Oladele Abiona said the complex was used for a variety of purposes, including a counselling service, charity shop and salon.
"Ever since we started running people were coming in and they were happy and embracing the good work we were doing in the community," he said.
He said he did not know why the complex had been targeted.
"This is a place where there is no discrimination, people from every background come here," he said.
He said a lot of the volunteers who work in the complex were from the local community.
"We're not going to give up, we'll continue on the good work we are doing and I believe whoever is doing this, I pray that they will have a change of mind because what we are actually doing is trying to make the community a peaceful place for everybody to be able to live in," he said.
Police have appealed for anyone with information to contact them.