Ian Paisley: Martin McGuinness signs book of condolence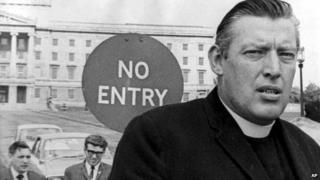 A book of condolence for Ian Paisley, who has died aged 88, has been signed by Northern Ireland deputy first minister Martin McGuinness.
The Sinn Féin assembly member was among those paying their respects to the former Democratic Unionist Party leader and first minister in Londonderry.
Mr Paisley and Mr McGuinness were former enemies who ended up heading the power-sharing executive at Stormont.
Mr McGuinness wrote: "The peace process and I have lost a friend."
In his message, he also said: "In rising above old enmities, we pointed the way to a better and peaceful future."
Books of condolence for Mr Paisley have opened in several towns and cities in Northern Ireland, including Derry, Ballymena, Newtownabbey and Lisburn. The one at Belfast City Hall will be opened on Monday.
Among those reacting to Mr Paisley's death was Prime Minister David Cameron, who said Mr Paisley had been "one of the most forceful and instantly recognisable characters in British politics".
Peter Robinson, Mr Paisley's successor as first minister and DUP leader, said: "I don't think that there's anyone who has had more influence in Northern Ireland over the years.
"Even those who thought the least of his politics thought the most of him as a person."
However, former Alliance Party leader John Cushnahan said that while he sympathised with the family, he was astonished at the "rewriting" of Ian Paisley's political contribution.
"While I welcome the fact that he ultimately embraced power sharing, it was too little too late and should not be used to excuse the pain and suffering that he inflicted on the people of Northern Ireland for the majority of his political life," he said.
Former US President Bill Clinton said Mr Paisley's "remarkable political career carried him from being the leader of hardline unionism to his service as first minister of the Northern Ireland Assembly, which was marked by his good working relationship with Martin McGuinness".
"In the end, the once polarising Paisley demonstrated that reconciliation and cooperation is better than conflict and discord," he said.
Ian Paisley
Career in numbers
40 years as an MP

37 years as Democratic Unionist Party leader

25 years as an MEP

13 years as a member of the Northern Ireland Assembly
PA
"That is how he advanced peace for the people he loved so much."
Former Prime Minister Tony Blair said Mr Paisley was "a man of deep convictions".
"The convictions never changed. But his appreciation of the possibilities of peace, gradually and with much soul searching, did. He began as the militant. He ended as the peacemaker," he said.
President of Ireland Michael D Higgins said Mr Paisley's "early career was characterised by an uncompromising position of a constitutional kind".
"However, his embracing of the change necessary to achieve a discourse that might lead to peace was of immense significance, as was his commitment to building relationships in support of that peace," he said.