Ian Paisley: 'Big of stature and voice, his sharp tongue knew many victims'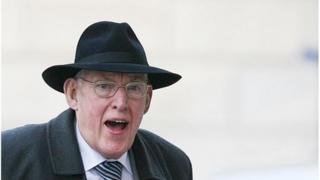 It is inevitable when a major political figure dies to ask what their legacy is.
In the case of Ian Kyle Paisley, the answer to the question is more complicated than most.
Big of stature and voice, woe betide anyone or anything he came up against.
And there were many targets - the Catholic Church; 'Big House' unionists; prime ministers and popes.
His sharp tongue knew many victims.
Yet when the time came he confounded everyone - including maybe even himself - by doing a deal with those he would once have viewed as the devil.
There is little doubt a political settlement at Stormont would have been impossible without Ian Paisley's say so.
He would not have rested until any other arrangement without his approval had been consigned to history.
Former Northern Ireland prime minister Terence O'Neill over inviting Republic of Ireland prime ministers; former Northern Ireland prime minister Brian Faulkner for Sunningdale; Margaret Thatcher over the Anglo/Irish Agreement and former First Minister David Trimble over the Good Friday Agreement - all felt the Paisley fire.
Yet when the DUP finally became the biggest party, Ian Paisley did not walk away. Instead, he went back to the negotiating table until he had a deal that he felt he could sell to his followers.
The key was his belief the IRA had been defeated and that Republicans had changed.
Then, with the self-belief that had carried him through the worst of times, he walked into government with a sworn enemy, Martin McGuinness, - and never looked back.
The fact that the oddest couple in politics actually appeared to like each other helped.
But for many of his supporters, Ian Paisley had gone much too far, a fact that hastened his departure as moderator of the Free Presbyterian Church.
At the time of his death, former enemies were friends and former friends were enemies.
Obituaries had been torn up and rewritten. The "no" man of politics had finally said "yes" and then some.
And yet... there are many who can never forget.
Former Alliance Party leader John Cushnahan was out of step with the tone of most of the tributes when he said Ian Paisley's embrace of power-sharing "was too little too late and should not be used to excuse the pain and suffering that he inflicted on the people of Northern Ireland for the majority of his political life".
Ian Paisley's passing has no political implications - certainly not in the way it would have had a decade ago.
But against the backdrop of renewed political turbulence, it may just provide an opportunity for all sides to stop, take stock, and think "what next?"
Ian Paisley was a man who caused political tumult throughout most of his adult life.
The outsider who spent decades bellowing in.
The unpredictable presence who could be an ogre or a charmer, often both at the same time.
In other words a complete contradiction.
The Assembly will do no business on Monday, other than hear tributes to a man who spent much time trying to silence other administrations less to his liking.
The power sharing government appears to be in greater peril than at any time since Ian Paisley did the unthinkable in May 2007.
Critics will say that is the inevitable consequence of a deal that was built on the shaky ground of compromise and turning the blind eye.
But without Ian Paisley, we may still be talking about how to do a deal - rather than how to save the one already done.