Sean Kelly and Sharon Rafferty jailed over Tyrone dissident camp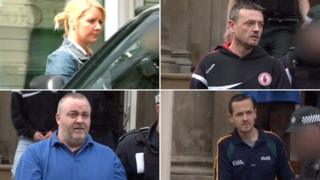 Two more people have been imprisoned over a dissident republican training camp in County Tyrone.
Sean Kelly, 49, of Duneane Crescent, Toomebridge, was sentenced to a minimum of five years in prison, with an order to serve five more on licence.
Sharon Rafferty, 39, of Cabhan Aluinn, Pomeroy, was sentenced to four years in jail and four on licence.
The court in Belfast was told that they helped to organise the training camp.
The court heard that, in a covert police operation, they were recorded discussing terrorist activities over six months.
The judge said he believed they played at least an "organisational or facilitating role" in the makeshift firing range, set up in Formil Forest, Omagh.
On Thursday, Gavin Joseph Coney, 37, of Gorticashel Road, Omagh, and Terence Aiden Coney, 36, of Malabhui Road, Carrickmore, were jailed for five years and nine months.
On 30 March 2012, police discovered Kelly and Rafferty and the two Coney brothers at a training camp in the woods.
The Coney brothers admitted attending a place used for terrorist training, having articles for use in terrorism and preparation of terrorist acts. They also pleaded guilty to having a gun in suspicious circumstances.
On Friday, the crown court was told about conversations between Kelly and Rafferty recorded during surveillance.
They talked about targeting Catholic police officers, the publicity surrounding killing people, frustrations about "the leadership" and the possibility of targeting police near a car park in Toomebridge, County Antrim.
Kelly was also recorded talking about the name and address of a prison governor. He and Rafferty also talked about weaponry, including how to handle an AK47 rifle.
The judge acknowledged that while the conversations contained elements of "bragging, bravado and exaggeration", it was clear that the pair supported terrorist acts, with Kelly "indicating his own involvement".
"You don't express any doubts or remorse about terrorist activity," he told them.
Following their arrests, Kelly and Rafferty were initially silent but later entered guilty pleas.
Rafferty admitted having a rifle and ammunition and attending a place used for terrorist training. She also pleaded guilty to a charge of helping to prepare an improvised firing range.
Kelly admitted the same three offences, and pleaded guilty to three more - collecting information likely to be of use to terrorists; possessing two blank firing pistols and take part in weapons training at Formil Wood.
The judge said he found it sad that there were still some people in Ireland that cling to the notion that political change can be brought about by violence.