Sisters of Nazareth 'put hands up' over child migrants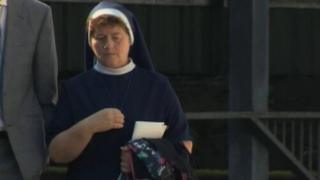 The Congregation of the Sisters of Nazareth has told an inquiry it has to "put its hands up" over its involvement in a child migrant scheme to Australia.
The Historical Institutional Abuse Inquiry (HIA) is examining child abuse in religious and state-run institutions in Northern Ireland from 1922 to 1995.
The current phase is examining what happened to children sent to institutions in Australia.
One hundred and eleven children were sent there by the Sisters of Nazareth.
On Wednesday, Sister Brenda McCall said: "The most eloquent apology, the most beautiful monument, no matter what money they receive, will never make up for what we took from them in sending them there.
'Substandard children'
"We have to acknowledge - the government, the British government, the Australian government, the churches, the congregations, the institutions - we all have to put our hands up."
She told the inquiry that, in hindsight, it was "a grave injustice" to the children and their families.
The inquiry also heard on Thursday that the nuns were invited to join the scheme by the government and the Catholic hierarchy.
Sister Brenda also explained that the Australian government was closely involved in the selection of children, sending a officer to Londonderry to check children being put forward for emigration.
She said the Australian government wanted children who were "white and of good health" and in a letter, sent in 1947, it complained to the authorities in Northern Ireland of being sent "substandard children" and introduced an IQ test to the scheme.
Asked if there was any financial incentive for the Sisters of Nazareth to send children to Australia, Sister Brenda replied, "none whatsoever, no".