RUC pensions: Widows' benefits delayed by 'technical issues'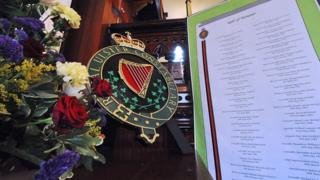 Some widowed spouses of RUC officers who have had their pensions reinstated are still waiting for payments, the BBC has learned.
The new RUC pension policy was announced in June and was due to start on 1 July 2014.
The move reversed a policy introduced in 1988 that abolished RUC pensions for widowed partners who got remarried.
However, no payments have been made. The Department of Justice has blamed "technical issues" for the delay.
The change was brought in to reinstate pensions for those whose partners were Royal Ulster Constabulary (RUC) officers who had died in service from January 1989 and those who retired after that date and subsequently died.
It followed a TUV amendment to a public pensions bill passed earlier this year.
'Evasive'
The Traditional Unionist Voice (TUV) MLA Jim Allister said the delay was "unacceptable".
Speaking on BBC Radio Ulster's Talkback programme on Wednesday, he said: "The first of July has come and gone and payments have not been made.
"Technical issues cannot override the law of the land, which says that from the first of July they are entitled to the restoration of their pensions and though there have been delays, it has to come."
Mr Allister said he was "mystified" by the reasons behind the delay.
"The Department of Justice indicated that 1 July was sufficient, and now what I get is evasive stuff about technical issues with the DFP and the Treasury, with no insight into what those issues are," he added.
"I'm most disappointed that they still haven't sorted themselves out. I've been contacted by several widows, and no-one has yet been paid what is due."
'Responses awaited'
The chair of the Stormont justice committee Paul Givan said those who should have received payments "deserve to be treated properly and deserve to have the will of Parliament implemented".
He said: "A resolution needs to be found and I'll be taking this to my colleagues on the justice committee on Wednesday afternoon."
In a statement, the Department of Justice (DoJ) said: "The minister is keen to give effect to the will of the assembly that, under Section 30 of the Public Service Pensions Act (Northern Ireland) 2014, police widows remarrying after 1 January 1989 should retain, or have reinstated, their pensions.
"However, there are a number of technical issues that first need to be resolved with DFP (Department of Finance and Personnel) and HM Treasury.
"The minister has written to the DFP minister seeking to address these issues urgently and responses are awaited from Treasury and DFP.
"The minister is keen to resolve the issues at the earliest opportunity to enable payments to be made."
The department added that "no date is yet available on when these payments might be paid or what date they will be applicable from".
A spokesperson for the Department of Finance and Personnel (DFP) said: "The payment of pensions to police widows is a matter for the Department of Justice."