The complex rise in Northern Ireland racist hate crime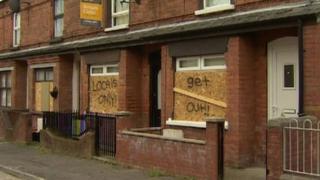 Racially motivated crimes in Northern Ireland have risen by more than 50% in a single year, but what is behind this?
Kerry Ann Brown still has fond memories of the Rathcoole housing estate in Newtownabbey, on the outskirts of Belfast. With its well kept flowerbeds and clean streets, it was - she says - a good place to bring up her family.
"Most of the people are quite friendly," she remembers. "And it's been known as the best kept housing estate since 2011."
But, in May this year, Ms Brown says she felt forced to leave the estate after what she believes was a racist attack on her family home.
"They wrote, 'Blacks out' there," she says, pointing at the front door of her former home. "And then 10 months later we got a brick and a bottle thrown through the front window."
She explains: "It was quite obvious to me that it was racially motivated. Because of all the houses on Linford Green, why is it only my house that had 'Blacks out' written on the door and then a bottle and a brick through my window?
"One of my neighbours told me she was very sorry. All she could do was give me a bunch of flowers. All the neighbours on the street came out. They were very upset. They were livid," she adds.
'Greater awareness'
Originally from Jamaica, Ms Brown is testament to the changing face of Northern Ireland.
The 2011 census found that 32,400 people - 1.8% of the usually resident population - belonged to ethnic minority groups. This was more than double the proportion 10 years earlier, when the figure stood at 0.8%.
These ethnic minority groups are increasingly under attack.
Incidents range from verbal abuse, to victims having stones thrown at their homes or rubbish dumped in their garden, Anna Lo of the cross-community Alliance Party tells me.
Originally from Hong Kong, Ms Lo is the first and only member of the Northern Ireland Assembly to come from an ethnic minority.
She lists other serious cases - including physical attacks on immigrants - but says racism is nothing new in Northern Ireland. The change, she believes, is the media focus since the Troubles ended.
"The newspapers probably didn't have column space to report on ethnic minority issues when there were bombs, bullets and assassinations," she says.
"But I think since peace, we are beginning to see a higher awareness of ethnic minorities being attacked."
Immigrant population 'static'
The figures, though, suggest more than just a change in perception.
According to the Police Service of Northern Ireland (PSNI), in the 12 months to June 2014 racist incidents rose by 36%, from 830 to 1,132. In the same period, racist crimes increased by 51%, from 525 to 796.
Most of the increase is concentrated within Belfast, where on average a racially motivated offence takes place at least once a day.
The PSNI is so concerned, it introduced a dedicated phone line for reporting racist hate crime in May.
And yet the immigrant population appears to be relatively static.
The most recent figures available from the Northern Ireland Statistics and Research Agency show approximately the same number of people leaving Northern Ireland as arriving from outside the UK.
'Unpleasant taste'
Police say most of the incidents have been happening in loyalist areas.
Officers from the PSNI believe that elements of the Ulster Volunteer Force (UVF), a loyalist paramilitary group, are behind some of the attacks that Assistant Chief Constable Will Kerr described as leaving "the unpleasant taste of... ethnic cleansing".
The flag of US white supremacist group the Ku Klux Klan was seen flying from a lamppost in Belfast in July.
A shopkeeper who runs a store selling flags in east Belfast told the BBC that he is asked for KKK flags at least once a week. He described those trying to buy them as "ordinary working people" - all men, most of them in their 30s.
'Much more complex'
Peter Shirlow, professor of conflict transformation at Queen's University Belfast, says it is important not to jump to conclusions about who is behind the rising racial tension.
He believes "there's too easy a script that basically says Protestant bigots [are the cause of] the issue.
"I think it is much more complex than that," he adds.
Many loyalists believe they lost out in the 1998 Good Friday agreement, and that republicans were subsequently at an advantage.
It is easy to draw the conclusion that the surge in racist incidents is an expression of that frustration.
But Prof Shirlow says the mentality towards outsiders has deeper roots.
"Local here is very local," he says. "We are probably still more family-based in where we live. You know, mother lives [in house] number six, daughter lives in number eight, granny lives in number 12. Clearly ethnic minorities came late."
He adds: "You're always twitchy if you grew up here between 1968 and 1994. When a car pulled up behind you, you used to always wonder, 'Is this it?' I don't think that goes away."
Republican areas
One Eastern European resident of Northern Ireland, who spoke anonymously to the BBC, questioned the idea that racist violence was limited to loyalist territory.
She was the victim of a racist attack in republican territory.
"There is racism everywhere, and that includes republican areas," she says.
"In those republican areas, I think it's common knowledge that you don't necessarily go to the police if you've been attacked.
"And whenever you read in the media about punishment beatings, there's a reluctance for people to come forward. So statistically I'd say that the number of racist attacks might be similar," she adds.
There are numerous programmes to help immigrants integrate into both republican and loyalist communities, but she has given up hope on fitting in and plans to move out of Northern Ireland.
"I don't think I'll stay here with my family, because it's very difficult to really become close to local communities on the personal level," she says.
"You may work very closely with people on a professional level, but afterwards they won't even invite you home for tea. And that's something that I treasure the most."
Hear more from Helen Grady on The Report on BBC Radio 4, Thursday 11 September at 20:00 BST - or catch up online.