Once-a-month bin collection trial extended in Banbridge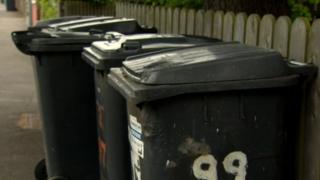 A household waste trial that cut the number of black bin collections from once a fortnight to once a month is to be extended in Banbridge, County Down.
Banbridge District Council started the trial in January on two of its routes.
Brown and green recycling bins were still collected every two weeks, but black bins, for non-recyclable waste, were only emptied every four weeks.
The council said it was so successful it will be extended from the initial 1,500 homes to a further 14,000 homes.
'Staggering'
In a statement, Banbridge District Council said the aim was to reduce the amount of non-recyclable waste going to landfill.
All residents living in the council area have been able to separate and recycle their waste at home for some time, since the introduction of green bins for recyclable waste and brown bins for food and garden waste.
However, the council has been "exploring ways to encourage every household in the district to use their black bin less and their green and brown bins more".
The initial experiment was carried out along one urban bin collection route and one rural route.
The council statement said the eight-month trial has had "a staggering positive impact on the recycling rates across the bin collection routes involved".
The trial cut the number of black bin collections for the 1,500 homes by 50%, but saw the amount of waste placed in black bins fall by more than 50%.
'Oversupply of bin space'
The kerbside recycling rate rose by over 39% on the two collection routes, compared to the same period last year.
Banbridge District Council's director of environmental services, David Lindsay, said: "This gives clear and unambiguous priority to recycling over landfill.
"Having developed a system that provides opportunities for a wide range of items and materials to be recycled at the kerbside, the council felt that there is now an oversupply of bin space and that too much of that is black bin space.
"The vast majority of waste generated in homes is recyclable - and if all recyclable waste is placed correctly into the green and brown bins, 240 litres of black bin space spread over a four-week period has been proven to be adequate for the remaining small fraction of non-recyclable waste."
The council said the feedback received from householders involved in the trial had been "overwhelmingly positive".
'Smell'
However, some residents who live along the routes that are about to switch to monthly collections expressed reservations to BBC Radio Ulster.
Dromore resident Quintin Clarke said he had a young family and was concerned about the nappy waste.
"When you put a nappy into the bin it creates a smell," Mr Clarke said.
"What's the smell going to be like after a month? I'm paying rates for a bin to be emptied, which isn't going to be emptied."