ESA: Unions angry over 'millions wasted' on failed project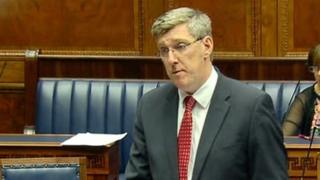 Politicians in Northern Ireland have been criticised for "wasting" millions of pounds on a failed bid to set up an Education and Skills Authority (ESA).
The aim of ESA was to create a single, all-embracing body with more powers than the current education five boards.
Preparations have cost almost £16m but after parties disagreed at Stormont, ESA has been abandoned in favour of a less radical, single board solution.
The Ulster Teachers' Union called it "a sell-out to political difference".
The union's general secretary, Avril Hall Callaghan, described the failure to reach agreement over ESA as "a travesty and a deplorable waste of resources".
'Reducing bureaucracy'
The creation of ESA was favoured by Education Minister John O'Dowd, from Sinn Féin, but was opposed by the Democratic Unionist Party (DUP).
The body was first proposed in 2007, with the aim of reducing bureaucracy.
ESA was supposed to be the single authority for the administration of education in Northern Ireland, subsuming the functions of the five existing Education and Library Boards (ELBs), the Council for Catholic Maintained Schools (CCMS), the Staff Commission and the Youth Council.
However, the plan ran into problems when political disagreements emerged at Stormont over who would represent the controlled school sector, attended mostly by Protestant pupils.
Voluntary grammar schools also objected to ESA, due to concerns they would lose some of their autonomy.
Earlier this year, Mr O'Dowd accepted that he failed to convince unionist parties to agree to the plan.
Reduced powers
He then proposed a less radical solution - a new single education body that would absorb the existing powers of the five current boards, but would not have the additional powers envisaged under the ESA proposal.
On Tuesday, Mr O'Dowd welcomed agreement from his ministerial colleagues at the Northern Ireland executive to go ahead with the single board, with reduced powers.
However, trade unions representing education workers have dubbed the new body "ESA-lite" and have deplored the amount of public money wasted on the abandoned project over the last seven years.
UTU general secretary Ms Hall Callaghan said the money spent on ESA preparations "could have supported countless new teaching jobs, improved school buildings and resources".
'Sacrificial lamb'
"In a bid to placate their supporters, certain politicians blocked ESA on the basis that it might not sit comfortably with the grammar school lobby - a lobby which, time and again, is shown to support the anachronism which is academic selection.
"As a result our children have become the sacrificial lamb on the altar of political difference," she added.
The Northern Ireland Public Service Alliance (NIPSA) expressed some relief that a decision had finally been made on way forward after a "almost a decade of procrastination".
However, NIPSA assistant secretary Paddy Mackel said their members would be "fully aware of the waste of millions of pounds to date on the failed ESA project".