Historical Institutional Abuse Inquiry: Woman appeals for help to trace medical records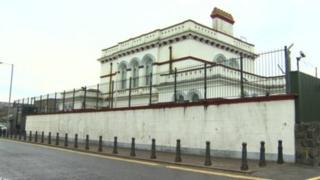 A witness at the Historical Institutional Abuse Inquiry has appealed for help to trace her Irish family's medical records.
The woman was shipped from Nazareth House in Belfast to Australia when she was four.
Now in her 60s, she said she wanted to see her records because two of her children had died at a young age.
She said the information was "extremely important" as she had other children and grandchildren.
She told the inquiry sitting in Banbridge on Wednesday that she was born to a Catholic mother in Dungannon and said she found out in recent years that her father was "a Protestant landowner".
Explaining that one of her daughters had died as a baby, and a son died suddenly aged 26, in 2005, she said: "I need to know my health history because of the fact I have lost two children and there is nothing physically or medically that we can find out here in Australia."
She said her other children and grandchildren needed to be aware of the medical history of her maternal and paternal families in Northern Ireland.
The inquiry also heard on Wednesday about the state's knowledge of the migrant scheme.
Senior counsel to the inquiry, Christine Smith, presented details of a letter from the Department of Home Affairs in 1955.
It was written after an inspector from the department visited Nazareth House in Belfast.
The inspector was told that another Catholic Children's Home, Rubane House in Kircubbin, could not cope with the numbers being sent there from Belfast.
The alternative being considered, the letter suggested, was to send children to Australia.
The inspector wrote: "Rubane can't absorb all their output and this is how they're to be disposed of."
The HIA inquiry is examining the extent of child abuse in religious and state-run institutions in Northern Ireland from 1922 to 1995.
Last week, the inquiry heard that 131 children from Northern Ireland, some as young as five, were sent to Australia as child migrants.
Their evidence is due to be heard either by video link or in written statements over the next few weeks.