Peter Robinson says Stormont 'no longer fit for purpose'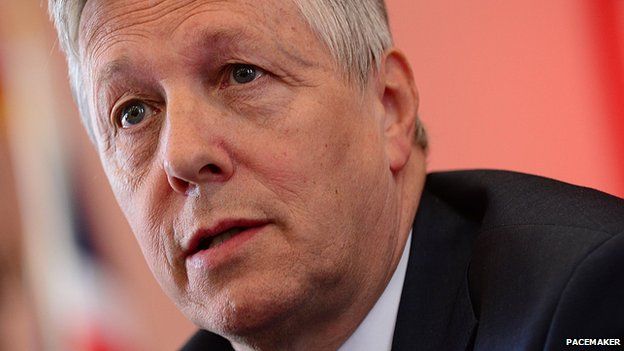 Arrangements for devolved government at Stormont "are no longer fit for purpose", Northern Ireland First Minister Peter Robinson has said.
The DUP leader said the "weight of the issues to be resolved is such that it must be tackled in a St Andrews 2 setting with government involvement".
But Sinn Féin's Martin McGuinness said the "difficult challenges facing the political process" could be overcome.
"Megaphone or media-based negotiations are counter-productive," he added.
The deputy first minister said: "We all have a responsibility to work together, but in the first place the first minister should talk to me and to his executive colleagues."
"The structures required cross-community agreement for every significant issue - a process that would have tested and defeated less divergent coalitions," he said.
Mr Robinson said the Northern Ireland Assembly's rules of engagement meant delays and disagreements were unavoidable, and the "issue needs to be addressed".
He said the St Andrews Agreement was a "short-term solution" that came at a time when it was "necessary to kick-start the process with a system that enabled the maximum ownership of the assembly and executive by the widest possible swathe of our community".
"The breadth of the ideological spectrum represented in the executive does, at times, mean agreement cannot be reached on some initiatives and at other times, in order to secure agreement, unsatisfactory compromises are reached."
Northern Ireland faces penalties by the Treasury for not endorsing welfare reforms passed by Westminster in February 2013.
Sinn Féin has led the opposition to the reforms.
Mr Robinson said the cost of going it alone on welfare could rise to £1bn a year, or 10% of Stormont's budget.
The first minister said the consequent job losses of thousands of public workers was "not a price Northern Ireland could afford to pay to maintain devolution".
He said one option was to return social security powers to Westminster, something that has previously been ruled out by Northern Ireland Secretary Theresa Villiers.
Mr Robinson said the other option was to reform the assembly's decision-making processes.
"Even if we were not faced with potentially terminal welfare decisions, Stormont's processes need to be fundamentally upgraded," he added.
Speaking in the Commons on Tuesday, Ms Villiers appealed to all political parties in Northern Ireland to resolve outstanding issues.
"I think it is very important that progress is made on welfare reform, I think it is also important that progress is made on flags, parading and the past," she said.
"I can say very clearly that the government will continue to do all we can to try and bring all the parties back to the table on those matters and to facilitate and push for an agreed way forward on those matters."
BBC Northern Ireland political editor Mark Devenport said that although Mr Robinson did not threaten to trigger an election in his lengthy opinion piece in the Belfast Telegraph, in an accompanying interview he did not rule it out.
Responding to Mr Robinson's article, Mr McGuinness said: "We have overcome enormous challenges in the past by treating each other with a degree of respect.
"With the support and engagement of the two governments and the US administration I'm confident we can find a resolution to our current difficulties."