Student unions pressure Stephen Farry over cuts to student hardship fund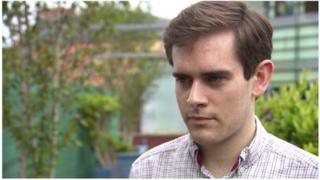 Student union leaders have called on Employment and Learning Minister Stephen Farry to reverse cuts to a fund to help struggling students.
Last week, it was revealed that £1.3m had been cut from the Student Hardship Fund.
The group will meet with Mr Farry later this month and has launched an online petition.
The Department of Employment and Learning (DEL) said they have invested in other student support projects.
NUS-USI deputy president Fergal McFerran said that the cuts were "absolutely unacceptable".
"Hardship funds are vital to help students in the most need, and help ensure students don't have to take out high interest pay day loans," he said.
"It is essential that this cash is reinstated to ensure that there is no cut over the past five years. A more cohesive and responsive funding structure is needed which sees increases in both the hardship fund and the FE awards fund, to ensure that one is not played off against the other."
Hannah McNamara from the union said they had created an online petition so that students could have their "voice heard" on the issue.
"52% of the FE students said that they had seriously considered leaving their course, saying that financial difficulties had been a factor," she said.
"These findings are absolutely staggering and show how difficult further education students find it to make ends meet.
"This cut to the FE student hardship fund over the past five years has to be addressed and this cash should be reinstated as soon as possible."
A spokesperson for the Department for Employment and Learning said; "The funds for Hardship funds are demand led and that over the same period overall funding for student finance support increased by £0.8 million.
"The department also confirmed that no applications for Hardship Funds have been rejected, due to lack of funds."