Northern Ireland living wage 'would boost employment'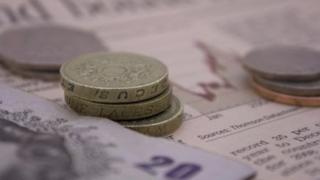 Introducing a mandatory "living wage" to Northern Ireland would lead to an increase in employment and economic output, new research suggests.
The research was carried for the Northern Ireland Centre for Voluntary Action (NICVA).
The living wage is an hourly rate that is assessed as giving workers a basic standard of living.
For Northern Ireland it is £7.65 an hour, compared to the statutory minimum wage of £6.31 an hour.
Productivity
The research suggests the move could lead to 1,200 jobs being lost but 2,400 new jobs being created.
It estimates that the living wage would see 173,000 low-paid employees receiving an average gross pay rise of £1,300 a year.
That would mean employers paying an additional £221m a year, equivalent to 1% of Northern Ireland's total wage bill.
The report examined how that would be paid for and the additional economic consequences.
In the best case scenario it would be entirely funded by an increase in workers' productivity, meaning employees would work more efficiently.
Higher minimum wage floors
However, it also cautions that it could be paid for through reductions in jobs or hours worked, higher prices for consumers and reduced profits.
Over time, reduced profits would lead to some firms going out of business - that is most likely to affect exporters who face competition from lower wage countries.
The report states that "there is a fair amount of evidence that productivity increases result from higher minimum wage floors".
It adds that the evidence does not rule out the other impacts and their "attendant economic effects".
The research estimates that the higher wages would boost spending in the economy by at least £124m a year, leading to job creation.
It also estimates that the exchequer would get a net gain of £83m through increased tax receipts and reduced benefits payments.
Oxford Economics used employment and wages data from 2012 in the research.
At that time, the living wage was £7.20 an hour and around 173,000 employees earned an hourly rate that was less than that.
Those jobs were were concentrated in retail, food services and social care.
'Simply unsustainable'
More than 80% of employees aged 18 to 21 earned less than the living wage.
That position improves as workers get older - 16% of workers in their 30s were paid less than the living wage.
The Federation of Small Business has said that three quarters of small businesses in Northern Ireland were already paying their staff the living wage or above.
Northern Ireland policy chairman Wilfred Mitchell said the FSB supported the aspiration towards a "living wage" for those businesses that could afford to pay it, but stressed that any movements in this direction must be entirely voluntary.
"If there were an increase in the current national minimum wage to raise it to the 'living wage' that would represent a 20% uplift in wage costs, which is simply unsustainable in many sectors where margins are already squeezed," he said.
"Government could play its part by reducing the costs of regulation on marginal sectors."