Third of foster care siblings separated in Northern Ireland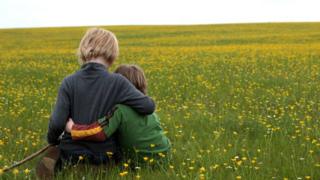 More than a third of children were separated from their brothers and sisters when placed into foster care in Northern Ireland.
Of 569 children with siblings who were fostered, 215 were split up from their brothers or sisters (38%).
Out of 275 groups of siblings who were fostered, 89 of them were placed with different families (32%).
The figures were obtained in a freedom of information request by the charity Action for Children.
They cover the last financial year between April 2013 and March 2014.
'No option'
The charity's Anne Davidson said a shortage of foster carers was the reason why so many siblings were being separated.
"Foster carers who come forward try out fostering one child to see how it works out, but they forget that there are brothers and sisters to be considered," she said.
"We have to work with who's available, and if we've only got people who have space for one child, there's no option but to split them up."
Matthew Bingham, who was separated from his five siblings when he went into foster care, said it was a difficult experience.
"It's hard to describe - when there were problems in the house, my older sister and my younger brother were my rock and would have taken care of me, so when they were taken away, it feels like you're being separated from your security," he said.
Ms Davidson, who is a former social worker, admitted that it was a "big ask" for people to foster more than one sibling.
"When people are asked after they've come forward for fostering, a third of them say they could have taken on more siblings but no-one asked them to consider it," she said.
"It's a fault in the process, and I suppose we've got hung up on the idea that children need lots of space and a bedroom each.
"Actually, children need to be together and can be put into bunk beds, so we need people with big hearts to come forward - big houses are secondary."
Northern Ireland figures for April 2013 to March 2014
Sibling groups placed in foster care
Sibling groups who were split up
Number of individual children involved
Number of children split up from siblings
Northern Ireland overall
275
89 (32%)
569
215 (38%)
Belfast Trust
140
31 (22%)
299
50 (17%)
South Eastern Trust
23
8 (35%)
59
19 (32%)
Southern Trust
23
9 (39%)
51
23 (45%)
Western Trust
89
41 (46%)
160
123 (77%)
Northern Trust
No figures supplied
About 11,000 children under the age of 16 with at least one sibling were placed into the care of local authorities in the United Kingdom between April 2013 and March 2014.
The charity asked all 211 local authorities in the UK and 89% responded.