Jeremy Wright QC to consider fresh Loughgall inquest request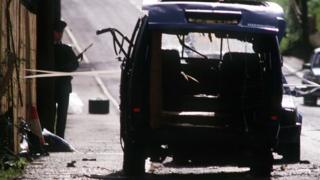 The Advocate General Jeremy Wright QC is to consider a request to hold new inquests into the deaths of eight IRA men and a civilian in Loughgall.
The Secretary of State Theresa Villiers said she was satisfied that the government had material that would be relevant to any decision on whether to open fresh inquests into the cases.
She said some of it was "national security sensitive".
Families of those who died had been campaigning for a new inquest.
The IRA men were shot by undercover soldiers as they approached Loughgall police station, in County Armagh, with a 200lb bomb in the bucket of a hijacked digger in May 1987.
A civilian, Anthony Hughes, was killed and his brother badly wounded when they were caught up in the gunfire.
His family received a full government apology earlier this year.
In a statement on Friday, the secretary of state said she had written to Northern Ireland's attorney general, John Larkin QC, to inform him that she had issued a certificate under Section 14 (2) of the Coroners Act (NI) 1959, in relation to the request for fresh inquests.
"The effect of this certificate is that the Advocate General for Northern Ireland (the Attorney General for England and Wales, Jeremy Wright QC) will now consider these requests and take the decision on whether to direct that fresh inquests are conducted," the Northern Ireland Office said in its statement.
"This was previously incorrectly reported by some media outlets as the secretary of state 'blocking' inquests into these deaths.
"This is untrue, and does not accurately represent the secretary of state's role in this process.
"The effect of the legislation, and the role of the secretary of state, is simply to make sure that the appropriate law officer is able to take the decision, with all of the information available, independent of government."
The statement added that Ms Villiers "having fulfilled the requirements placed on her by the legislation, has no further role to play in relation to the decision whether to direct these inquests".
In July, Ms Villiers was criticised by nationalist politicians and campaign groups for what they viewed as her intervention in their attempts to get a fresh inquest into the killings.