Father speaks about impact of speed-related accident on son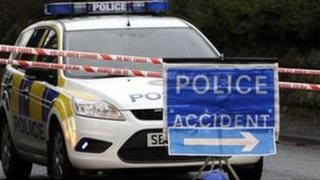 A father whose son suffered catastrophic injuries in a speed-related traffic accident has spoken about the impact it has had on his son and the family.
The father, who did not want to give his name, spoke out as police launched a crack-down on motorists who speed, use their mobile phones or fail to wear their seatbelts.
His son, who was a front seat passenger in a car, "suffered horrendous injuries".
"He died three times at the scene of the accident," he said.
"He had to be cut from the car. He also had to have his seatbelt cut which sort of made things happier for us, knowing that he had actually been wearing a seatbelt."
When the family arrived at the hospital they were told there was "no hope" for their son.
"He was not recognisable as our son because his head had swollen probably three times the size of a normal head and I had to leave hospital two days later to come home and get a photograph of him to remind me what he actually looked like," he said.
'Traumatic'
"His brain pressure increased to such an extent that the neurosurgeons told us that he had two hours to live and that we needed to get all the family members to say their final farewell."
The father said it was a "very, very traumatic" time for the family as they were expecting their son to die.
"We knew that there was very little that could be done to help him," he said.
"We stayed at the hospital for the seven weeks that he was in intensive care and that became our life."
To the family's relief and amazement their son survived.
"He couldn't walk, he had lost his voice, he couldn't speak, he couldn't look after himself in the toilet," he said.
"He couldn't eat properly, his food had to be cut up and he had to have a soft diet. He couldn't wash or shave or dress.
"His mobility was terrible, he was in a wheelchair and had to be wheeled about the house."
The father gave up work to devote his time to his son's "rehabilitation" and said he had "completely turned around".
"We got an operation that gave him his voice back, he is able to walk short distance now with the aid of a stick and he has paralysis down one side of his body and his mobility isn't great and he would have balance issue," he said.
"Because of his mobility problems he has put on about 12 stone in weight which obviously affects his general health as well.
"His eyesight has been affected and he has no concentration. He has no short-term memory whatsoever and he would have mood swings which are problematic from time to time, probably borne out of frustration and his inability to communicate properly.
'Not the same boy'
"He can't make decisions for himself, he couldn't prepare a meal, he really can't even pour himself a glass of water so it has been life changing not only for him but for the whole family.
"He has made a good recovery but he is certainly not the same boy as he was. His life is totally ruined."