Frontline staff testify at Northern Ireland emergency department inquiry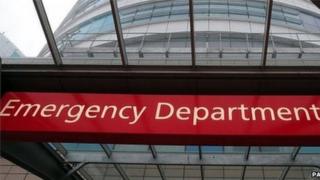 Frontline medical staff, including doctors and nurses, are giving evidence to the Human Rights Commission inquiry into emergency health care.
It is investigating whether patients' rights to health were violated due to treatment they received in emergency departments across Northern Ireland.
The panel has heard from consultants who work in emergency departments providing round the clock care.
Public hearings will continue until the end of October.
On Friday the inquiry heard from three consultants who work in Belfast emergency departments.
Asked to identify problems, they have talked about overcrowding and having insufficient time to spend with their patients.
One also talked about having to "shimmy up and down past trollies".
The theme of dignity and dying was also mentioned often during the hearing.
"There is certainly a piece of work to do with the community to say 'are we making the best decisions for patients who are expected to die'," one consultant said.
"The default position seems to be to come to an emergency department and die in a crowded, busy resuscitation room."
Among those giving evidence later will be the president and chair of the College of Emergency Medicine in Northern Ireland.
They are responsible for setting medical standards and they are expected to say that things cannot be allowed to get any worse for both their members and patients.
Nurse consultants from both the Mater and the Royal Victoria hospitals are due to describe working life from their perspective.
Patients, including an advocate for those who are mentally ill, will describe the availability of services in emergency care for people who are vulnerable or suicidal.
Among those asking questions will be a former UN Special Rapporteur on the Right to Health, Prof Paul Hunt.
The health minister and the chief medical officer gave evidence during the first day of testimony on Thursday.