Number of new car sales in Northern Ireland falls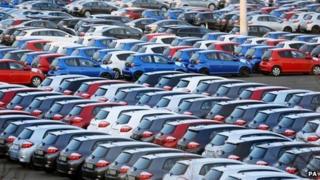 New car sales in Northern Ireland have fallen for the first time in 19 months according to the latest industry figures.
During August there were 3,843 sales, which is down almost 3% on the 3,952 cars sold in the same period in 2013.
However, the total number of sales so far this year is still ahead of 2013 levels.
There were 41,608 sales up until August, 10% above the 37,762 over the same period in 2013.
The most popular model so far this year is the Ford Fiesta.
New car sales are seen as a good measure of the consumer economy in Northern Ireland as there are no general retail sales figures.
Ulster Bank economist Richard Ramsey said the latest figures may indicate that the local consumer recovery has stalled.
He said it remains to be seen whether the monthly decline is "a blip" or the "the start of a meaningful slowdown."
Most of Northern Ireland's recent economic data has been positive showing improvements in the labour market, housing and business confidence.