Environment minister signs off Belfast Metropolitan Area Plan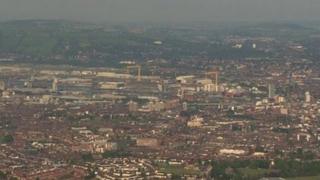 The environment minister has said a long-delayed planning framework for greater Belfast is now operational.
Mark H Durkan has given final approval to the Belfast Metropolitan Area Plan (BMAP).
It identifies zones for retail, residential or commercial development.
The plan affects almost 40% of the Northern Ireland population.
Mr Durkan said he had approved the plan without the agreement of all his colleagues in the executive.
The DUP had previously said that BMAP is a cross-cutting matter relevant to more than one department and should have the agreement of the whole executive.
It is unclear if the DUP will try to overturn Mr Durkan's decision.
Mr Durkan confirmed that some of his executive colleagues are unhappy with the retail zoning given to Sprucefield near Lisburn.
The BMAP treatment of Sprucefield limits future expansion to "bulky goods" only - which would mean a proposed John Lewis shop could not be built there.
Mr Durkan intends to make a statement to the assembly on Monday.
'Attracting investment'
The plan covers not just Belfast but outlying areas such as Carrickfergus, Lisburn, Newtownabbey and North Down.
Speaking to BBC Radio Ulster's Evening Extra programme, Mark H Durkan said it will make a great difference to the area.
"This is much needed and will be integral in attracting more investment into Northern Ireland," he said.
"It's going to create certainty for investors, it's going to create certainty for communities, it's going to create certainty for social housing providers and ordinary housing providers.
"This is far from a solo run. Elected representatives from all executive parties have asked what's keeping me from adopting BMAP."
'Legal challenge'
Health Minister Edwin Poots said he was shocked at the decision.
"It is scarcely possible to imagine a decision more clearly within the remit of the Executive as a whole and not simply for the minister of the environment to take unilaterally," he said.
"The legislation and case law make it absolutely clear that a minister has no power to take a decision which is one properly to be taken by the executive.
"Quite apart from the breach of the ministerial code by the environment minister this decision could lead to confusion in the development community and costly legal proceedings."
Mr Poots sat on the ministerial sub-committee which looked at the issue.
"As a result of this unilateral announcement, the published document is not worth the paper it is printed on in the virtually inevitable eventuality of a legal challenge," he added.