Where kings of Ulster 'were crowned': Site dig to begin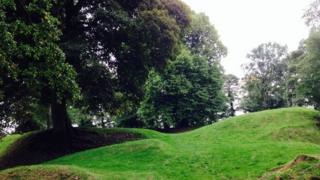 Archaeologists are to start digging next week at one of the most historically significant sites in Ulster where its former kings were crowned.
Tullyhogue Fort, near Stewartstown in County Tyrone, is on a hilltop with commanding views of several counties.
It was here, for centuries, that the O'Neill clan crowned its chief, effectively establishing him as the king of Ulster.
The dig is in advance of plans to improve access to the site, with better car parking and signage.
The coronation ceremonies were conducted on a great stone chair, called Leac na Rí. It was made up of a large boulder, reputed to have been blessed by St Patrick, with slabs fixed to the sides and rear.
The coronation chair is recorded in maps drawn by an English military cartographer Richard Barlett, in the early 1600s.
He accompanied Lord Mountjoy, who was sent by Elizabeth I to quell a rebellion led by Hugh O'Neill, the then chieftain.
Hugh O'Neill was a complex character who had enjoyed royal patronage and had been to court, but took up arms when the English began to encroach on his lands and influence.
Dan Ó Néill is the current chief guardian of the ancient clan O'Neill of Tyrone. He believes remnants of the coronation chair are still visible at the site and hopes the dig may provide further information about it.
"A person said to be me once, you're not just born with the surname O'Neill, it's more of a title, so we are the guardians of the old Celtic ways," he said.
"When they came up here to be inaugurated it was actually a marriage between the chief and the land. We're conscious of the environment and the need to keep the history alive."
Local legend has it that part of the coronation seat ended up in a nearby Church of Ireland church.
It is the keystone on an arch leading into Desertcreat Parish Church, a short distance from the fort.
It had the year and the initials of the then rector, the Reverend Richard Dobbs, carved into it. The current rector is the Reverend David Bell. He said his congregation is proud of its link with the past.
"You can't be absolutely certain but it's reasonably probable. Richard Dobbs found the stone about 100 years after it was broken up, so I think there's a fair chance it might be the real deal."
The archaeological dig is due to start on Monday and will last several weeks.
BBC Newsline will report live from Tullyhogue Fort from about 18:30 BST on Friday, 5 September.
The Tullhogue dig, and others, will feature in a BBC NI programme Digging for Ireland, to be broadcast later this year.