Cody the dog: Pair admit part in dog set on fire case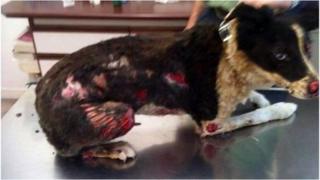 Two men have changed their pleas to guilty in a case involving a pet dog being set on fire in County Antrim.
Cody, a three-year-old collie, had to be put to sleep after being doused in accelerant and set alight in 2012.
Andrew Richard Stewart, 23, from Wellington Park, Moira, pleaded guilty to the animal cruelty charge.
His co-accused, Jamie Downey, 23, from Chestnut Hill Avenue, Moira, pleaded guilty to a lesser charge of perverting the course of justice.
The pleas came on what was due to have been the second day of the pair's trial at Belfast Crown Court.
Earlier in the case, Downey had denied a charge of cruelty.
The attack happened in August 2012 in a quarry near the village of Maghaberry.
On Thursday, a prosecution barrister told the Belfast Crown Court Stewart accepted he was the one who poured flammable liquid on the dog.
He added that Stewart accepted he acted alone.
The court heard Downey then made up a story of their movements that day, with Stewart.
The judge told Stewart that he would face an "inevitable prison sentence".
They were both released on bail, pending sentencing on 7 October.
Cody's owner, Natalie Agnew, said she was "delighted" by the guilty pleas.
"We've waited two years for this, for the guilty verdict, and we look forward to the sentencing of the two culprits," she said.
"It's been horrendous, the effect it's had on the children, let alone what they actually did to the poor dog.
"The effect it's had on my two boys is still ongoing, they've had to have counselling and sleepless nights, nightmares.
"It's just been awful hard to try and come to terms with."