Defibrillator stolen from Belfast ambulance while crew treated patient nearby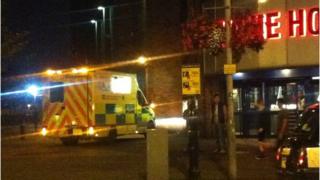 A defibrillator has been stolen from the back of an ambulance in Belfast city centre as the crew was treating a patient nearby.
The incident took place outside a cinema on the Dublin Road about 20:20 BST.
John McPoland, an ambulance service spokesperson, said a man approached the back of the ambulance, grabbed the defibrillator and ran off.
It will cost the ambulance service about £10,000 to replace it.