Stephen Nolan fraudster John Cartmill given suspended sentence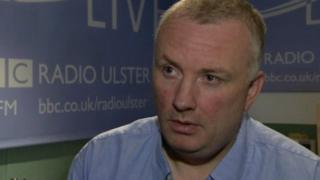 A fraudster whose victims included BBC NI presenter Stephen Nolan and This Morning host Eamonn Holmes has been given a two year prison sentence, suspended for two years.
He appeared in court on a total of 76 charges.
The charges are linked to credit card frauds which 32-year old John Cartmill, from Brewery Lane in Ballinderry, admitted carrying out.
Most of the offences were committed in February and March 2011.
A total of 43 counts of fraud by false representation involved the use of two credit card belonging to Stephen Nolan, with the amount of transactions totalling around £22,000.
Belfast Crown Court heard the cards were used in restaurants, clothes shops and off licences.
Also de-frauded by Cartmill was TV presenter Eamonn Holmes. These offences, which were all committed in February 2011, included transactions to local companies for building materials and amounted to around £17,000.
Belfast Crown Court heard Cartmill's other two victims included a man he had known for around ten years and whose identity he effectively stole, and a man called Anthony Banks, who appeared on the TV programme The Secret Millionaire.
Sophisticated crime
Crown prosecutor Philip Henry branded the criminality as "a sophisticated fraud".
In the case of Mr Nolan, Cartmill rang the bank and asked for personal details to be changed, as well as asking the bank for a replacement card to be delivered to an address in Belfast. He also rang requesting the credit limit on the card be increased.
Cartmill even set up an email address in Mr Nolan's name, which Mr Henry said displayed a "multi-layered approach" to his offending.
One of Mr Nolan's cards was used 43 times, while two transactions were made on a second credit card.
When the offending came to light, Cartmill was identified from CCTV in some of the premises where he made purchases.
Defence barrister Greg Berry QC said his client was acting under duress, describing him as a "cog in a wheel - a facilitator."
Judge David McFarland told the court it was clear others were involved in the offending and accepted Cartmill was "a cog in this particular criminal machine."
Telling Cartmill he had assumed the identities of real people, the Judge said that once he had possession of credit cards and pin numbers, it was "relatively easy" to use these cards.
Mr Berry also pointed out that Cartmill was jailed last year for similar offences, adding if the court had been aware of the current offences then, all the matters against his client could have been dealt with at the one time.
Judge McFarland also spoke of a "degree of sophistication" with the offences and handed Cartmill a two year prison sentence suspended for two years.