DCAL did not have 'proper authority' to authorise cross-border grants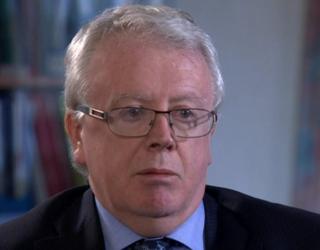 The head of the Audit Office has said a Stormont department did not have the proper authority to pay more than £8m to two cross-border bodies.
Kieran Donnelly highlighted the issue in the latest annual accounts of the Dept of Culture, Arts and Leisure.
He said it incurred an "irregular spend" in relation to grants to Waterways Ireland and to the North/South Language Body.
He said the outlay did not have the approval of the finance minister.
But, writing in the accounts, a senior civil servant from the Dept of Culture, Arts and Leisure (DCAL) disputed this.
Discussions about efficiency savings had been taking place between the two departments.
In June, during Assembly questions, the DCAL minister Carál Ní Chuilín of Sinn Féin, said she had taken advice on the issue and declared the spending "legal".
She told MLAs she had been refusing to implement "additional cuts".
The Traditional Unionist Voice leader Jim Allister described Mr Donnelly's position as "an important development".
He accused Ms Ní Chuilín of "challenging the authority" of the DUP Finance Minister, Simon Hamilton.
"The law requires her to get his approval, so what will he do now to ensure she complies," he asked.
Waterways Ireland had been given a grant of £3.2m and the North/South Language Body received a grant of £5.2m.
Finance Minister Simon Hamilton said it was "unacceptable for departments to incur irregular spend".
"My department has written to departmental accounting officers to remind them of their responsibilities, including the need for regularity and propriety in spending," he said.
"DFP (Department of Finance and Personnel) will enforce the requirement to have business plans and grants approved before the start of the period to which they relate. DFP will continue to monitor the position closely."