Cookstown cemetery: Gravestones damaged in 'sectarian hate crime'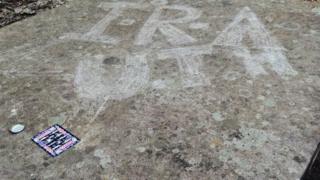 An attack on gravestones in a County Tyrone cemetery on Wednesday is being treated as a sectarian hate crime.
Police said graffiti was paint-sprayed and scraped onto the stones during the attack at the cemetery on Drum Road, Cookstown, at about 03:35 BST.
Six men, aged between 19 and 21, have been arrested and are being questioned about anti-social behaviour.
They are not being linked to damage to the graves.