Sinn Féin 'will work positively to address health pressures'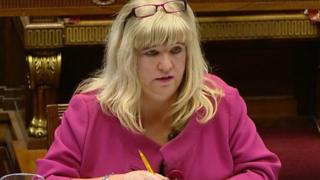 Sinn Féin has said the party will "look positively" at addressing pressures on the health service.
On Wednesday, Northern Ireland's health minister accused Sinn Féin of "undermining" and "attacking" the health service due to its stance on welfare reform.
Edwin Poots was addressing an emergency meeting of the health committee to discuss the recent budget crisis.
He has warned the executive that he can not deliver £140m of savings.
Speaking after the emergency meeting at Stormont, chair of the health committee, Sinn Féin's Maeve McLaughlin said the health service was "too important to be caught up in party politicking".
"There are clearly pressures on the health service and we need to ensure there is adequate funding to meet the needs of the sick and vulnerable," she said.
"That requires additional resources and additional scrutiny and the minister has said that there is still waste in his department.
"Sinn Féin will come at this positively," she added.
Sinn Féin is refusing to endorse welfare reforms, which has resulted in Westminster withdrawing money from the Northern Ireland block grant.
Mr Poots has previously said this would put extra pressure on the health budget.
On Wednesday, Mr Poots said he had managed the health budget to the best of his ability but there were still savings to be made.
Ms McLaughlin referred to comments made by DUP Finance Minister Simon Hamilton when he referred to "mismanagement of the budget".
She added: "There are, clearly, very real questions in relation to the management of your budget.
"That has, minister, been backed up again by your party colleagues and, indeed in my view, by your admittance quite publicly that you can't or won't deliver these proposed cuts."
Addressing the committee chair, Mr Poots said: "You would need to go, madam chair, and look at how your party has performed in this.
"Your party has performed despicably. And they have attacked the health service in a way and undermined it in a way which has put me in a wholly untenable position."
Ms McLaughlin said the problems in the health department long pre-dated the "debacle around health reform".
The chief medical officer, Dr Michael McBride, told the committee that the implications, in term of the cuts, were "quite wide-ranging".
In his first public comment on the health crisis, Mr McBride said: "The choices we are being faced with are short-term, short sighted and, in short, I cannot recommend these to the minister."
Last month, Edwin Poots warned the executive that he could not deliver £140m of savings.
During a BBC interview he said as a result they would have to find someone else to do it, do it themselves, or find the additional money.
The move prompted a huge response with some politicians accusing the minister of grandstanding, while others called for him to explain how he has been managing the annual budget of about £4.5bn.
Last week, a leading GP said the potential cuts could be "catastrophic" to patient care.
Ahead of the meeting, chair of the health committee, Maeve McLaughlin, who convened the emergency meeting, said that while Sinn Féin had made it clear it supported more money being made available for health, it had a responsibility to ensure any additional money would be spent on relieving pressures on frontline services.
She added: "The minister has much to do to restore public confidence in the health system and to convince people that he is actually up to the job."