Education 'zone' proposed for Shankill area of Belfast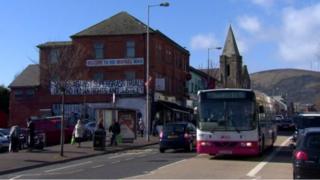 A 20-year plan has been proposed to improve education in the area with the worst attainment record in Belfast.
The proposal is for a programme to create an educational zone for children and young people in the Shankill area.
"Wraparound" support would bring together many government departments to work together in the long-term and improve the prospects of young people.
The aim is to support not only children but also parents to help them succeed.
The plan was discussed at a conference at a community centre in the Shankill area on Tuesday.
Jackie Redpath of the Greater Shankill Partnership said there has been "initiative piled on initiative" but they have been too short-term.
His plan is for a zone that tackles all areas of young people's lives and that lasts for a generation.
Mr Redpath said: "This problem dates back 40 years and it is not going to be solved in one year."